Description
Magicshine MJ-906 bike light combo. Including a front light, a rear light and remote control. Ideal for all MTB riders.
5000 lumens of max possible output from 5x CREE XM-L2 LED
100 – 75 – 50 – 20% and flash power modes
2.2 hours runtime on full brightness mode and 11 hours on low power
Light head weighs 98 g, 7800mAh battery 336 g
2.4 g remote control, handlebar mountable
20 lumen red LED rear light
O-ring mount
Y-cable
MagicShine MJ-906 5000 lumens bike light combo with Wireless Remote Switch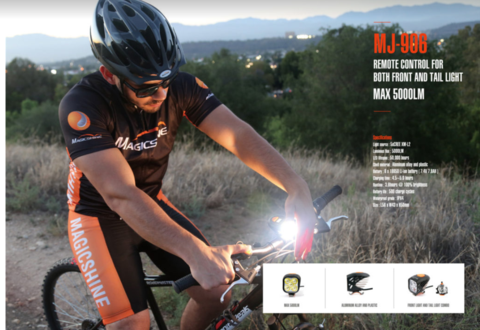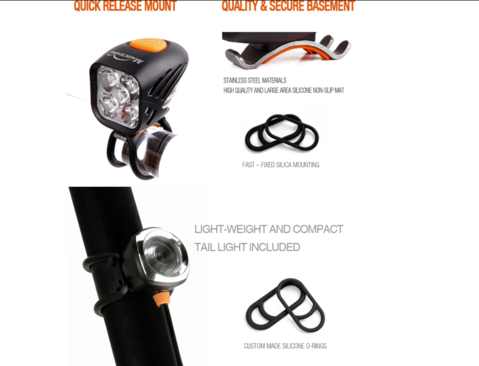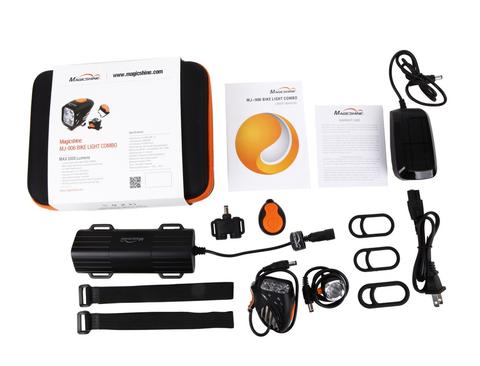 With a theoretical maximum output of 5000 lumens from the 5 ultra bright CREE XM-L2 LEDs,  Magicshine MJ-906 bike light combo produces a 20 degree wide angle beam designed for off road, MTB and trail riding, on full power there is no hot spot, ideally paired with a helmet light for MTB use.
MJ-906 LED bike light does come with a rear light and lower output modes optionally controlled by the 2.4g remote for your travels to and from the trails. For smaller size, weight and cost, please check out the single and double LED versions of this light more suitable for road and urban cycling.
4 constant power modes and a flash mode, powered by 7.8Ah super high capacity Li-ion battery pack.
Dimensions
Newly designed with advanced cooling fins the Magicshine MJ-906 weighs just 98g plus the 7.4V 7.8Ah battery at 336g.
Mounting
Both the front and rear lightheads mount onto your frame with the tried and tested 'o' ring method.  Having said that these new rings are newly designed meaning you only need one, whatever the size of your bars – ingenious!
Battery
This new 5000 lumen (theoretical max) Magicshine MJ-906 comes with a newly designed 6 x 18650 li-ion battery  (7.4V 7.8Ah) using velcro straps to attach to your frame, but beautifully molded to make the whole set up less likely to do any damage!
In Use
The MJ-906 makes use of the 5 power modes, giving you the choice of 100%,output, 75%, 50% 20% and then a flashing mode.  Going back to the old scrolling system there is no ability to toggle up and down the modes but for this out put at this price you can't really complain!   The package also contains a little rear light, and a remote button to control both light heads, also included is a splitter cable, charger and the nylon straps to attach the battery to your bike.  All in all a great new design from Magicshine! You'll find a cheaper light out there, that offers the reliability of the Magicshine range and the output of this light.
Run Time
2.2 hours of run time on this astonishingly bright light and Flashing mode gives around 7 hours of constant use.
Beam 
The beam pattern is 20 degree's so not as wide as some of our other off road lights but plenty for the vast majority of riders.
Box Contents
Headlight
Tail light
Wireless remote control
Rubber 'o' rings
Battery pack 7.4V 7.8Ah
Charger
Nylon straps
Warranty card
Y cable or Y adpater